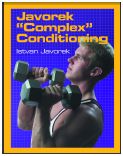 This book is the culmination of my 40+ years coaching and conditioning world-class athletes.
Click here to read chapters from Javorek's Complex Conditioning
Read the review from Muscle and Fitness Magazine
Read the review from the NSCA Journal
This amazing book only $49.99 then add shipping and handling.
Just USA : Media Mail rate $49.99 + $9.50 = $59.49
Priority Mail in US $64.50
Shipped to Canada, South America, Europe, Asia, Australia, New Zealand or Africa just by Priority International mail $82.99
I accept just $US : International Money Order or on http://www.paypal.com/ Sent to : [email protected] or [email protected] or[email protected]  
Allow 1-2 weeks for delivery.
**Calculating Sales Tax:Kansas residents add $3.76
In the late '80s while participating in a NSCA pilot project, I had the pleasure to lecture with Istvan "Steve" Javorek. I found him to be a cultured man with a great sense of humor and a wealth of knowledge. He is an authority not only on the sport of weightlifting but also on sports conditioning, nutrition and biological forms of recovery.
Javorek, an ethnic Hungarian born in Romania, became a head weightlifting and conditioning coach. From 1964 to 1982 he worked at the Clujana Athletic Club-Cluj in Romania, training many top Romanian weightlifters who competed for the national team. One of these athletes was Dragomir Cioroslan, a bronze medal winner at the 1984 Olympic Games who went on to become the head coach for US Weightlifting at the Olympic Training Center in Colorado Springs.
In 1983 Javorek worked with the South Korean national weightlifting team, then came to America the following year to be the head weightlifting coach and an all-sports conditioning coach at Texas A&M for three years. This was followed by his current position as a full-time professor of fitness at the all-sports conditioning program at Johnson County Community College in Overland Park, Kansas. Among Javorek's most successful athletes are Wayne Simien, a 2005 first-round draft pick in the NBA who plays for the Minnesota Timberwolves, and Kareem Rush, another top NBA athlete who is currently playing for the Charlotte Bobcats.
Javorek has a great book out called Javorek Complex Conditioning. I recommend it to all personal trainers and strength coaches who want to broaden their knowledge of the Iron Game. It is not for the research nerd but for the person in search of an excellent "how-to" book.
Javorek's book is based upon workouts that he has developed for his athletes, and his approach is to increase overall athletic ability with training - regardless of sport. In Romania, for example, while attending to his weightlifting athletes as their head coach he also would train several dozen bodybuilders for competition.
"I remember my first bodybuilders had disproportionately developed musculature with a lack of general athletic abilities," says Javorek. His training prescriptions reflect this philosophy, such as the one he refers to as his "Tremendous Pleasure" workout (oh, did I mention that Javorek has a sense of humor?). Javorek's book reflects the importance of variation in exercise design, and in it you'll find not just dumbbell and barbell exercises but also dips, pull-ups, box jumps and walking lunges.
Javorek offers the following guiding principles for designing workouts: "Make the schedule enjoyable, avoid monotony, use plenty of exercise variations and individualize the schedule." As such, he is especially fond of workouts that emphasize dumbbell training, which are detailed in chapters 13 to 25. Here are ten reasons that support Javorek's emphasis on dumbbell training:
is safer than barbell work
does not require a large practice area
is easy to teach
can be performed "simultaneously and very efficiently" with large groups of athletes
is dynamic with large range of motion, and offers great variation in exercises
stimulates balance
develops muscular power, cardiovascular and muscular endurance, flexibility and strength
is inexpensive
is easy to monitor loading parameters
is easy to monitor heart rate before and after each set
Another interesting aspect of his workout design is that he likes to finish his workouts with abdominal training and plyometric exercises. Says Javorek: "I was born with the East-European plyometrics movement (which we just called 'explosive drills'). I have helped athletes achieve great performance applying my philosophy to hundreds of programs, which develop quick, fast and explosive musculature."
The result of such training is that his athletes often develop high levels of general fitness. Here are two outstanding examples:
Istvan Tasnadi. Tasnadi became a silver medalist in weightlifting in the 1984 Olympic Games. At a bodyweight of 246 pounds, he could jump onto a 42-inch box 20 times consecutively and could run the 60-meter dash in 7.1 seconds.
Wesley Barnett. Barnett was a student of Javorek in 1988-1991. During this time Barnett recorded a 10.4-foot standing long jump and a 64-foot throw on the overhead backward 10-pound medicine ball throw and ran 30 meters in 3.98 seconds. Barnett became a silver medalist at the 1997 World Weightlifting Championships in the 242-pound class.
Many top athletes and coaches have endorsed Javorek Complex Conditioning. Here are a few: Al Vermeil, strength and conditioning coach, Chicago Bulls; Rob Rogers, M. Ed., C.S.C.S., football conditioning coach, Middle Tennessee State University; Randy Barnes, 1996 Olympic gold medalist in shot put; and Sumya Anani, IBA Lightweight World Champion. And you can add my name to that list.
Javorek Complex Conditioning is a great book for those looking for a radical change in their program and who want to not only look like an athlete but also be able to perform like one. To purchase Javorek Complex Conditioning, go to www.istvanjavorek.com.
Charles Poliquin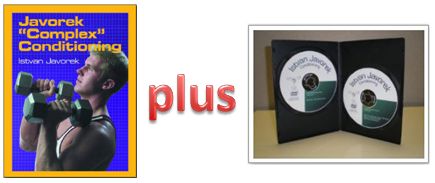 My book PLUS the Javorek's Weightlifting Technique DVD set – the best way to learn my exercises.
The exercises are demonstrated by Wesley Barnett, silver medalist at the 1997 World Weightlifting Championship, multiple US national weightlifting champion and record holder + . Javorek's Dumbbell and Barbell Exercises – Demonstration – DVD. These two DVDs provides a wide variety of Dumbbell and Barbell exercise techniques and plyometrics demonstration on Javorek's Conditioning Hill. This is an encyclopedia of my exercises with unique DUAL video angles so you can really learn the technique. Over THREE and a HALF HOURS of powerful barbell and dumbbell exercise techniques!!!!
Order the book and DVD set. In the second edition there is an Extra Super Challenger and Power Athletes Whoop Ass Program! Book + DVD for $99.99 – you would Save $20.00 on package deal plus $25.00 on S&H over the cost of the two separate orders.
United States Priority Mail: $99.99 +S&H $23.00 = total: $122.99




**Calculating Sales Tax: Kansas Residents please add: $6.25 (so you Kansans pay at total of $124.24)
United States Priority International Mail 7-9 business days: $99.99 + S&H $59.00 = total $158.99

Want to target your conditioning for the best possible effort? I will personalize the Whoop-Ass workout and e-mail it to you for ONLY $45 more!!

(you must print out the exercise test list, perform the test exercises and send the completed test list back to me. You'll get your personalized program in under two weeks!)
Personalize the Super Challenger program for just $32.00
(same thing – send me the exercise test list with your maximums)
Personalize BOTH for $75!
(for personalized programs, just add the extra $32.00, $45.00 or $77.00 to your order, send me the test files and I'll send you back a personalized exercise regimen in PDF format).
---
If you ordered the book and DVD set in the past, I don't want to leave you out: I will personalize the Football Whoop-Ass program for $32.00 and the Super Challenger program for just $17.00 (or both for $45). Send me $17.00, $32.00 or $45 and then download and fill out the test sheets (click above to get the test sheets) and I'll send you a PDF via e-mail.

(previous customers, only – I know who you are and the cheaters are not going to the heaven!)