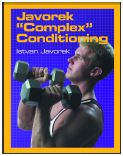 This book is the culmination of my 40+ years coaching and conditioning world-class athletes.
Click here to read
chapters from Javorek's Complex Conditioning
Read the review
from Muscle and Fitness Magazine
Read the review
from the NSCA Journal
This amazing book only $49.99 then add shipping and handling.
Just USA : Media Mail rate $49.99 + $7.50 = $57.49
Priority Mail in US, and First Class Air Mail Canada or Mexico $63.99
Shipped to Europe, Asia, Australia, New Zealand or Africa $74.99
Shipped to other locations $82.00
I accept just $US : International Money Order or on www.paypal.com Sent to : ijavorek@jccc.edu or ijavorek@istvanjavorek.com or ijavorek@gmail.com
Allow 1-2 weeks for delivery.
**Calculating Sales Tax:Kansas residents add $3.76
---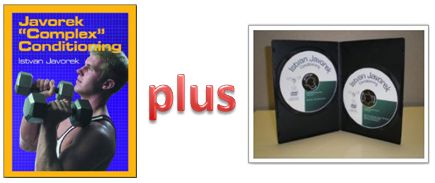 My book PLUS the Javorek's Weightlifting Technique DVD set - the best way to learn my exercises.

The exercises are demonstrated by Wesley Barnett, silver medalist at the 1997 World Weightlifting Championship, multiple US national weightlifting champion and record holder + . Javorek's Dumbbell and Barbell Exercises - Demonstration – DVD. These two DVDs provides a wide variety of Dumbbell and Barbell exercise techniques and plyometrics demonstration on Javorek's Conditioning Hill. This is an encyclopedia of my exercises with unique DUAL video angles so you can really learn the technique. Over THREE and a HALF HOURS of powerful barbell and dumbbell exercise techniques!!!!

Order the book and DVD set TODAY and get Javorek's Football Whoop-Ass AND the Super Challenger conditioning programs for FREE - 84 pages of pure hell (but YOU end up in the Champion Heaven!)

Book + DVD for $99.99 – you save $20 over the cost of the two separately!
then, just add Shipping and Handling to figure the total:

United States: S&H $21.00 =total: $120.99
**Calculating Sales Tax: Kansas Residents please add: $6.25 (so you Kansans pay at total of $124.24)
Canada,South America,Europe,Australia or New Zealand- First Class Air mail: S&H $35.00 = total: $134.99 or 7-9 days Priority International Mail S&H $55.00 = total $154.99
Asia or Africa: S&H $45.00 = total: $144.99 or 7-9 days Priority International Mail S&H $55.00 = total $154.99
Allow 2-3 weeks for delivery for First Class International air mail.
Want to target your conditioning for the best possible effort? I will personalize the Whoop-Ass workout and e-mail it to you for ONLY $45 more!!
(you must print out the exercise test list, perform the
test exercises
and send the completed test list back to me. You'll get your personalized program in under two weeks!)
Personalize the Super Challenger program for just $30

(same thing - send me the
exercise test list
with your maximums)
Personalize BOTH for $75!
(for personalized programs, just add the extra $30, $45 or $75 to your order, send me the test files and I'll send you back a personalized exercise regimen in PDF format).
---
If you ordered the book and DVD set in the past, I don't want to leave you out: I will personalize the Football Whoop-Ass program for $30 and the Super Challenger program for just $15 (or both for $45). Send me $15, $30 or $45 and then download and fill out the test sheets (click above to get the test sheets) and I'll send you a PDF via e-mail.
(previous customers, only - I know who you are and the cheaters are not going to the heaven!)