Welcome to Istvan "Steve" Javorek's Conditioning Center
Happy Holidays to all of my website visitors:
http://www.youtube.com/watch?v=ViZGZL54nMI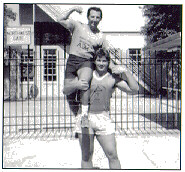 Istvan and Randy Barnes, World and Olympic record holder and Olympic and World Champion shut putter
Are you ready for Istvan's new Football Whoop-Ass program?

Click on "Special Offers" on the left to get my book and new DVD set.
For a limited time, this includes the new Football Whoop-Ass AND the Super Challenger conditioning programs!


Click on a name below to view a testimonial on Javorek's Book
Wayne Simien
-
Former Spanish league, NBA player and Kansas University basketball star
---